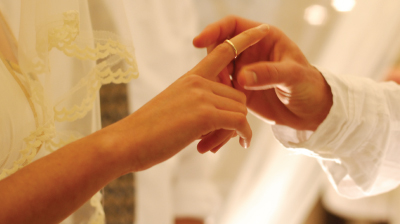 The picture is familiar, yet always stirs our hearts anew: A young couple stand together under the wedding canopy, to establish a bond which, they pray, will last a lifetime. Their hearts are full of hope that the joy they feel on this day will last forever. 
Many obstacles threaten their dream of unending matrimonial bliss. It is not an easy assignment to harmoniously navigate the highways and byways of life together with another human being whose needs, tastes and preferences sometimes differ radically. How much more will our path in life be fraught if we set out on the journey thinking the road before us will always be smooth and clearly marked.
Judaism provides the structure for a successful marriage. The Torah guides the new couple in establishing their home. It protects the love which created the bond in the first place and nurtures it so that it will blossom and flower in the years to come. The majority of non-religious Jews have little or no inkling of the Torah guidelines for establishing a mutual life which is permanently rewarding and a source of ongoing satisfaction and delight. As a result, a curtain of ignorance veils the riches of the Torah concept of marriage from many lives.
Unfortunately, there are those who have snippets of information gleaned from non-Jewish sources concerned not with producing literature which will enhance their annual income, rather than conveying the essence of authentic Judaism.
To gain an insight into the makeup of the Jewish home predicated on Torah concepts, we must first set aside any misconceptions, prejudices, and other misinformation picked up from hearsay and idle gossip. The basic building block of the Jewish nation is the family. It is the purity and inner harmony of the Jewish home which has kept our nation alive and vital despite thousands of years of exile. The laws of family purity which govern the Jewish home deal with one of the most physical aspects of human life, and perhaps, that facet of man's existence most likely to entrap him and enslave him to the animal within him when perverted by selfish interest alone.
The Torah teaches the Jew not to deny his sexual drive but to imbue it with spiritual meaning. It provides a "training program" which elevates man's physical functions to a higher plane, one on which they have significance on an intellectual and emotional level as well.
As responsible parents, we encourage our children to eat sensible, balanced meals, without forgoing the pleasures of mealtimes. We stress to them the importance of keeping their bodies healthy and strong. Just as there are rules how best to nourish the body, so too, are there guidelines for nourishing the soul, keeping it healthy, and encouraging optimal growth. This discipline, developed slowly and gradually from within, brings out the best in man's character. It harnesses the Divine spark of each human being so as to combine body and soul for Man's greatest benefit.
All humans are created with physical needs; every human being is born with an instinct to preserve itself by meeting its natural needs. It is man's responsibility to see that his body's needs are met, but to do so within the parameters which the Creator has set for him. He needs food and water daily, but that does not give him license to steal his breakfast from the next-door neighbor. Judaism does not demand that one curtail his intake of good food, beyond the dictates of preserving one's good health.  However, Judaism does require that one stand in line in the local supermarket and pay for his groceries, because of the commandment "Thou shalt not steal."
While other religions denigrate human desires, the Torah teaches the Jew to sublimate his desires to a higher goal, while retaining the pleasures and delights he experiences in caring for his body and meeting its needs. The Creator fashioned this world and the human race within it so that it might afford us untold sources of enjoyment. Judaism encourages to partake of these pleasures, within the parameters of the Creator's guidelines. Furthermore, it urges us to express our gratitude to Him who created the delights of this world so that Mankind might partake of them and enjoy them.