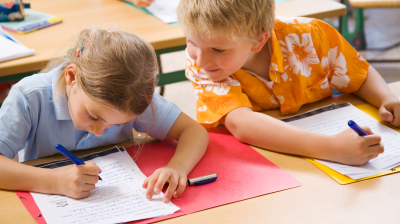 It is important for the parent to distinguish between sound, healthy values and academic instruction. Popular opinion associates the concept of "education" with the acquisition of information and skills required in order to make use of that information. Throughout the Western World, myriads of "educators" labor day and night with plans and projects designed to cram the maximum amount of information into the heads of their students with maximum efficiency. Does anyone stop to think about ethics, morals, or decent conduct?
Indeed, if the goal of these "educators" is to enable their students to earn the highest possible wage as adults, and to climb the ladder of success as quickly as possible, they are quite right in thinking that information is an important factor. Even so, amassing facts and figures is not all there in to preparing for a successful, lucrative career.
A more thoughtful evaluation will lead us to the conclusion that education means molding the student's personality, inculcating moral values, and guiding him to internalize refined character traits. Such an education will stand the student in good stead in the future, when he must develop ways of dealing with and overcoming the difficulties and meeting the challenges which will no doubt come his way.
A student who is taught only factual matter, devoid of any moral content, becomes a walking memory machine. He is a human version of the computer, an encyclopedia of facts, figures, diagrams, and explanations. However, when it comes to building his personality and strengthening positive traits of character, values and ethics, he remains raw material which has never been developed; he is no more than a plot of rich soil which has not yet been cultivated. Even after twelve years within the "Halls of Knowledge" the student will fail to mature emotionally and morally if all he has been given is more and more factual knowledge.
A striking example is the plague of cheating on examinations. There were times when the main goal of education was to teach the student how to become well-behaved. As society traded in its respect of moral propriety for the ability to amass material goods and money, honesty was the first victim to suffer. Many universities have held surveys to discover the extent to which their student bodies cheat. Again and again, the institutions held in highest esteem, nearly half of those students questioned, considered cheating legitimate, so long as one took care not to be caught in the process.
One of the main difficulties of education in our generation is society's extreme pressure to attain a lucrative career and prestige. Rather than an idealistic thirst for knowledge, today's student is seeking merely the tools to his own, self-centered advancement in the rat-race toward financial success.
Only individuals who have been instilled with ethical values will have the stamina required to withstand the pressures of his own selfish advancement and personal gratification. A person does not automatically think in terms of what is right or wrong, and act accordingly. This, too, is a skill which must be ingrained in us through constant practice.
As long as justice and ethics are regarded as theoretical topics to be relegated to the classrooms of Philosophy, no university can consider itself a hall of study, for in order to grow in character and moral stature, one must act, one must repeatedly flex his moral muscles. It is not enough to exercise the mind with theoretical calculations of the finer points of ethics.
While knowledge of history, mathematics, and science is important and productive, the true test of one's character is whether he knows to quell his anger, to overcome his physical desires, and to avoid hypocrisy. True wisdom means knowing when to speak out, and when to remain silent.
The most important factors are those which the character comprises. This is the wisdom man needs, not in order to earn his living, but in order to live a meaningful life. The importance of this wisdom is universal; it serves man not only in the workplace, but during every moment of his life if he chooses to live by its laws.
This is the essence of Torah and Judaism, instructing the individual how to perfect himself and to make this goal the ultimate purpose of his life. The other aspects of our days here on this earth serve as the vehicle by which we advance toward this sublime goal.