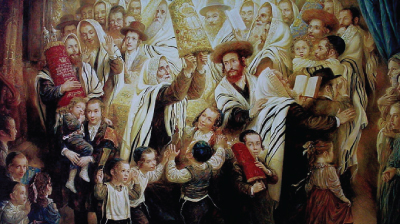 The Torah explicitly instructs us to rejoice during the Festival of Sukkos, even more so than during the other festivals, and certainly more than we do on ordinary weekdays. Throughout the ages, these days have been marked among the Jewish people as days of rejoicing. The Sages described the Simchas Beis Hasho'eivah, the ceremony of drawing water in the Holy Temple, and the singing, dancing, and rejoicing which accompanied it. This ceremony took place on the second day of Sukkos, when water libations were placed on the Altar, as a prayer for rain.
Our Sages tell us that one who was not fortunate enough to witness it has never tasted the full extent of rejoicing in this world.
The joy which we experienced in the Temple was of a different quality that what we call "happiness" in our day-to-day lives. When we "have fun" or are having a "good time", it is our bodies which are enjoying the experience. The soul has no share in this type of "happiness." The needs of the body are met. We feel contentment when we have a good meal, drink a vintage wine, or have the chance to view a breathtaking panorama.
On Sukkos, the Torah seeks to give us a spiritual experience that will implant a different type of happiness in our hearts, a more complete and lasting sort of gladness. A beautiful painting brings pleasure to the sense of vision and esthetics, but not to our taste buds. Likewise, a string quartet enhances our audio pleasure, but if we have a toothache, our enjoyment will be severely limited by it.
The joy of Sukkos is of the type that penetrates all of our being. The body enjoys physical stimuli, the kind that originate from outside the body. They are independent of time and place; for instance, an ice cream sundae can be delicious anywhere, at any hour of the day or night, any day of the week.
Not so spiritual pleasures. These require far more preparation. They need the right timing, and a suitable setting; the soul is far more sensitive than the body.
Another factor is the degree of purity of the soul. A heart heavy with guilt finds it difficult to rejoice. Sukkos follows directly after Rosh Hashanah and Yom Kippur, when we repent of our sins and work to filter out the dross that dragged us down in the past. We drew nearer to our Creator, and sought His blessings for the coming year.
The feeling of satisfaction we experience on the conclusion of Yom Kippur is evidence of the fact that our souls have, indeed, been cleansed, refined, and renewed, on this holiest of days.
As Yom Kippur and its sanctity draw to a close, we renew our determination not to let this precious, refined sensation of spirituality leave us altogether. We would somehow like to make it extend beyond the walls of the synagogue, so that it will permeate our homes and our daily lives, as well.
The Torah teaches us how to make this happen, by celebrating Sukkos.
Thus Sukkos comes at a time of renewal and spiritual rehabilitation, achieved through prayer, repentance, and closeness to our Maker. Newly cleansed, relieved of the burden of guilt, our heart is now more inclined to soar to spiritual heights. This alone is a reason to rejoice.
Now our soul is prepared to partake of the joy of the festival of Sukkos. This is a joy which is complete in and of itself, independent of the physical environment in which we find ourselves. Unlike our pleasure in good food or beautiful furnishings, it arises from within us, not only from external stimuli.
Of course, we enjoy festive meals and holiday clothing, but these are only secondary accessories to the joy which wells up from within, when we recall that now, we can stand before G-d as newly cleansed and purified children of a loving Father who has cleansed them of their sins, and renewed His bond with them.
On Sukkos, our physical pleasures are an expression of our inner joy. This is true, complete rejoicing, with no conflict between the material and the spiritual.
And it is this quality of integrated joy and contentment of which our Sages told us: "He who did not witness this joy, has not yet witnessed true happiness all his days."