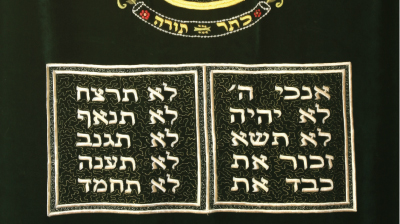 abortion pill spain
abortion pill spain
tecomed.es
The Ten Commandments were engraved upon two tablets of the covenant; they might be considered a condensed version of the precepts of the Torah.
These ten paragraphs of law serve as the foundation-stones for the rest of the Torah. Every one of the 613 commandments found in the Five Books of Moses can be categorized as belonging to one of the Ten Commandments which were engraved on the tablet of stone.
However, it is important to stress that the Torah itself does not give greater importance to the Ten Commandments than to the other precepts. This is one reason that the Ten Commandments are not included in the liturgy of our daily prayers. Our Sages stress that all of the Torah's commandments are equally binding for all Jews; none can be said to be more or less significant, or more obligatory, than the others. The Torah commands us to fulfill all those that apply to us without showing preference of one or the other.
A closer look at the Commandments reveals that they are arranged in an order which has a significance of its own, in addition to the content of each individual paragraph. A study of this structure gives us an insight into the unique nature of all the commandments of the Torah.
The Ten Commandments were divided into two groups of five. One tablet of stone bore the precepts that define man's relationship with his Creator; the second group of five deals with the relationship between the individual and his fellow man.
The first group includes the following:
1. I am the L-rd, your G-d, who brought you out of the land of Egypt, out of the house of bondage. You shall have no other G-ds before Me.
2. You shall not make for you a graven image, nor any manner of likeness, of any thing that is in heaven above, or that is in the earth beneath, or that is in the water under the earth; you shall not bow down unto them, nor serve them; for I the L-rd your G-d am a zealous G-d, visiting the iniquity of the fathers upon the children unto the third and fourth generation of them that despise Me, and showing mercy unto the thousandth generation of them that love Me and keep My commandments.
3. You shall not take the name of the L-rd your G-d in vain; for the L-rd will not hold him guiltless that takes His name in vain.
4. Remember the Sabbath day, to keep it holy. Six days shall you labor, and do all your work; but the seventh day is a Sabbath unto the L-rd your G-d, in it you shall not do any manner of work, you, nor your son, nor your daughter, nor your man-servant, nor your maid-servant, nor your cattle, nor your stranger that is within your gates; for in six days the L-rd made heaven and earth, the sea, and all that in them is, and rested on the seventh day; therefore the L-rd blessed the Sabbath day, and hallowed it.
5. Honor your father and your mother, that your days may be long upon the land which the L-rd your G-d gives you.
6. You shall not murder.
7. You shall not commit adultery.
8. You shall not steal.
9. You shall not bear false witness against your neighbor.
10. You shall not covet your neighbor's house; you shall not covet your neighbor's wife, nor his man-servant, nor his maid-servant, nor his ox, nor his ass, nor any thing.
Exodux 20: 3-13
The second group includes the prohibitions that regulate interpersonal relationships: homicide, adultery, and theft.
The final commandment is a prohibition against coveting that which belongs to another.
How does this fit in with the general pattern? We can easily understand that one must not murder or steal; basic human decency demands that I not touch that which is not mine; how much more am I enjoined not to take a life which is not mine, and I cannot replace.
However, the last commandment seems out of place: Why should G-d deem it so important that I not covet my neighbors' possessions?
Theft and murder cause untold harm and misery; but what difference does it make to the family next door if I wish I owned their home or their new Peugot? So long as I take no action, why should it be a sin to wish that I had their good fortune? And why is this transgression grouped with theft and bloodshed?
If someone who looks out the window and wishes he, too, had a new car, is such a criminal, that he is placed in the same category as a murderer or thief? Are mere thoughts also a crime?
The answer lies in the fundamental purpose of Torah law, and civil law. Governments are formed to protect the rights of honest, hardworking citizens, who do not want to lose their property to crooks and thieves. I don't want anyone to dip his hand into my pocket or bank account, so I mustn't help myself to anyone else's possessions. Fair is fair.
This is a far cry from the goals of Torah law. G-d did not bring ten plagues upon the Egyptians, then split the sea to rescue us from Pharaoh's troops, lead us through the desert, miraculously nourished by manna, and present us with the Torah, in order make it possible for us to set up a society in which each man is safe to sit in his luxurious dining room indulging in a hearty beefsteak on a silver platter, confident that society will protect himself and his property from harm.
There is far more for man to achieve in this world than the pleasures of the palette and a full stomach. Civil law, constitutions, and bills of rights are created in order to secure man's pursuit of happiness.
Not so, Torah law. G-d gave us Torah not only to resolve conflicts between man and his neighbors; concurrently, it is our manual for spiritual growth and maturation.
The Hebrew word "Torah" means "instruction." Torah comes to teach us how to refine our character so that the impulse to harm others is eliminated.
Criminals are not born on the spot, at the very instant when they commit their felonies; the weakness of character that led them to crime was present long before a thief leaves his home and goes out to commit a robbery. The making of a criminal is usually a long-term process. Months, if not years, before actually breaking the law, the criminal entertains thoughts of violence or crime. It takes a considerable time to overcome the mental barriers which inhibit crime in most individuals.
Once an individual persuades himself that there is no barrier to taking the life of another human being, he is a potential murderer, regardless of whether he has actually attempted to shed blood or not. Once the potential criminal has established the preliminary mindset which condones, or even encourages, an act of crime, it is only a small step to actually performing the deed itself.
The commandment "You shall not covet" arms man with the mental inhibition to crime so that he will be able to fight the self-centered inclinations which are an intrinsic factor of the human animal from the day he is first born. The tenth commandment, no less than the nine that precede it, provides man with the moral fiber to create a viable, safe society. Its practical ramifications are far-reaching.
Additional study of the Ten Commandments reveals another interesting detail. Each group of five commandments includes one precept which is mainly conceptual. It is observed not by performing an action, such as keeping Shabbos, honoring one's parents, or refraining from theft, murder, adultery, or idol-worship. It is a precept which is assigned to the mind and the heart; it is an attitude toward life, not a deed.
In the first group, this is the first commandment: "I am the L-rd, your G-d…" This implies an ongoing awareness that I myself, and the rest of mankind, and, indeed, the rest of the universe – are the products of an omnipotent Creator.
This is a mindset with several ramifications. I didn't make myself; G-d made me, and therefore I am indebted to Him for my very life. This leads to gratitude and obligations, to humility before a power infinitely greater than myself. The list of ramifications is nearly endless, but they all stem from this one, basic awareness of the tremendous difference between the Creator and the created. It is a question not of action, but of attitude. And that attitude will moderate all actions when the time comes to perform them.
Similarly, the commandment not to covet the possessions of our fellow man deals with an attitude, not a positive action or restraint from action. Both groups include commandments that dictate our actions and our attitude.
From here we see the fallacy of those who claim that one's relationship with his Maker is merely a question of attitude, while one relates to those around him by regulating his actions alone, regardless of one's personal attitudes. Both thought and deed must be aligned with the teachings of the Torah in order to fulfill G-d's will. We form a bond with our Creator via both thought and deed.
This is graphically brought home by the symbolism in the order of the Ten Commandments. The first and last precepts deal with thought; in between, we find directions as to how to regulate our actions. It is our thoughts which set the limits for our actions; therefore, it is the first and last commandments which "open" and "close" the Ten Commandments.
We start out with a thought process (the first commandment), which should lead us to action, namely, the next eight commandments.
Our mental processes are not an isolated phenomenon on their own, with no practical application. Rather, they should serve as the springboard to action.
These actions, in turn, serve to elevate a person, so that in the future, his thinking will be on a higher level. The cycle continues with higher, more sublime thoughts inspiring him to greater action. A person's thoughts stir him to improved actions, and his actions in turn, lead to thinking on a higher, more spiritual plane, drawing him ever nearer to his Creator.
In this way, a person progresses in spirituality throughout his lifetime. The cycle is continually repeated. Rather than going around in circles, he is climbing a spiral path which leads him higher and higher.
By their unique structure, the Ten Commandments guide us to choose that path in life which will lead us ever upward, closer and closer to G-d, the source of all blessing and good.